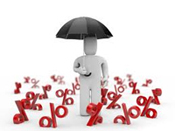 For most businesses, the annual insurance bill is a necessary evil which is only beneficial in time of adversity. Not the most exciting of elements to running a successful business but an essential one none the less. Here are three steps that we encourage all business owners to take when transacting their business insurance with their insurance company or insurance broker.
1. Understand your exposures and cover requirements
A business insurance policy is made up of many sections for example Buildings, Contents, Stock, Money, Goods in Transit, Business Interruption, Employer Liability, Public Liability, and Product Liability.
Each business has its own unique exposures. Sit down with your insurance broker and discuss your business description in detail and ensure the insurance policies being offered are adequately covering all elements of your business. If you are unsure, don't be afraid to ask.
We would advise all of our clients to repeat this process on an annual basis.
2. Provide accurate information
When you are sitting down with your insurance broker regarding your company's insurance requirements, it's crucial that all information handed over is accurate, so if you ever need to make a claim on your policy there is clear understanding with no disputes.
At the moment, I would advise that the property values which you declare are accurate and that you also take the time to predict the turnover and wage roll projections as best as possible. This can be difficult to do but accurate figures will help your business avoid incurring extra costs down the line and more importantly, avoid any complications at claim time.
With regards to the company claims history, if you have had any previous business insurance claims it is imperative that you declare them at each renewal.
3. Shop around
Shopping around is the most effective way of reducing your business insurance bill. For most businesses (such as shops, offices, pubs, restaurants, hotels etc) the insurance market is an open and competitive one. The best way to maximise this is, for you or your broker, to request quotations from all the insurance companies who are willing to provide cover in your industry.
In essence my advice is simple, if you are paying a business insurance premium every year – make sure you have the right policy for your business at a competitive price.