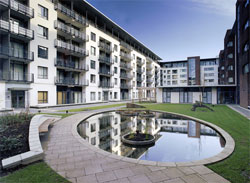 Over the past few years Ireland has seen a dramatic rise in the number of private residential developments; these developments can include Apartment and Duplex units which require Block Insurance.
I currently insure a number of Apartment Block / Management Company Block insurance clients ranging from small one block developments to multi block, multi storey House, Duplex and Apartment Block developments. I'm beginning to notice a trend happening with some of these policies which is having an adverse effect on renewal premiums. I believe management companies can begin to address this issue with residents before the insurance premiums become unmanageable.
In general I would see it that the block policy for a development is in place to protect the reinstatement of the buildings and to protect against third party liability in the common areas of the development i.e Corridors, Gardens, Car Parks etc. A typical claim on a block policy should be for a significant event causing damage to the main property and/or damage or bodily injury to a third party. I am beginning to notice a growing instance of private residents claiming on this policy for minor property damage within their own unit. Whilst these events can be covered under most Block policies, in developments with a high number of residents this practice can lead to a very high frequency rate of claims which can cause a significant increase in premium quoted at renewal time.
It is understandable that residents would want to claim on this policy, most would see it as their right considering the fact that they are paying their annual management fee. Unfortunately though this practice can lead to trouble for the wider group of residents as more claims ultimately means a higher premium for the management committee at renewal.
I think it is important that there is a common understanding of this fact amongst residents as ultimately everyone will suffer the effect of a bad claims experience with increased management fees to cover the insurance.
A couple of things to help with this issue
1. I would encourage all residents to take out "contents only" policies for their apartments which will cover the individual's property within their own unit
2. Management Companies can also look to increase the property excess on their block policy for each and every claim which will help to discourage residents from claiming for minor damages.
3. Management Companies can also look to partner up with local property maintenance companies which will keep costs of minor repairs low (and off the insurance claims experience)
Block Policy Insurance remains a competitive market place for developments but only for policies that are showing a profitable claims history. Insurance companies are looking for developments with a good claims history where then can see some potential for profit, if there is a history showing a high frequency of claims the development will be unlikely to benefit from the most competitive rates available.
If you have any queries please visit our
apartment block insurance page